60-year-old lady had fever and chills for 3 days.
She also had cough, vomiting and constant RUQ pain.
She had no specific medical condition prior to this visit.
Physical examination: soft abdomen with right CP angle knocking tenderness
In addition to lab tests,
her imaging studies for fever workup include CXR and KUB.
CXR: increased interstitial process and right lower lung atelectasis.
KUB: 2 abnormal gas lesions noted at right upper quadrant
(a teaching film: one film diagnosis)
We do emergency ultrasound at bedside for fever workup.
2 hyperechoic lesions with dirty shadow were noted within liver parenchyma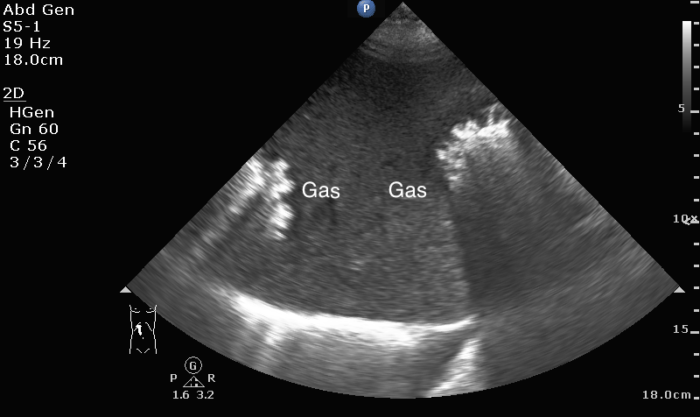 Lesions on KUB & CT tomography
Diagnosis: Gas-forming liver abscess (B/C: K.P.)
We used sector transduce and abdomen setting to scan both lesions in a limited intercostal space.
She had undiagnosed diabetes this time. She recovered well after adequate antibiotics treatment and multiple echo-guided treatment.
For POCUS, we can start free fluid survey at pleural base and Morrison's pouch first , then survey signs of obstruction at  Gallbladder, biliary tree and kidney.
For experienced hands, solid organs, hollow organs and retroperitoneal areas should be included in a comprehensive sepsis survey.
Take home message 

1. History and physical examination should be first 

2. First, find free fluid 

3. Then, survey for signs of obstruction